Shopping Cart
Your Cart is Empty
Thank you for your business!
You should be receiving an order confirmation from Paypal shortly.
Exit Shopping Cart
WIN YOUR TROPHY!
RIDE HARD NWFL
GROUP COMPETITIONS
We LOVE giving away trophies! You don't have to be the best - just the best in your group. Try to get on our Leader Board by making it at least 8 seconds on a competition-level ride on the only PBR-Certified Mechanical Bull for families!
Adults AND kids - whomever stays on our PBR-certified Bull the longest in your group challenge WINS a Trophy - plus bragging rights!
Can YOU Beat the Champion?
This Little Champion is only 6 YEARS OLD and so far has outridden EVERYONE - including professional ADULT bull riders! Think you can beat him? Come on and TRY!
HOW NOT TO RIDE




Bi-Weekly RIDE HARD Competitions

Are you ready to RIDE HARD? Sign up for the bi-weekly RIDE HARD competitions. It's challenging and fun - the most thrilling ride you could ever have! Hop on and hold on tight for the ride of your life on the hardest level setting offered on our mechanical bull. How long can you hold on? You have to last for at least 8 SECONDS! The longest competition ride of at least 8 seconds long is the winner! It's a wild ride, and YOU could even be a YouTube star! SIGN UP NOW!
WIN $250 CASH
AND PRIZES
EVERY TIME!
NEED TO KNOW: Competition Bull Rides $25 each entry. Competitors may sign up throughout the two weeks in the office or online up until the time of competition. A signed waiver must be on file to be eligible to compete. SIGN UP NOW! Unlimited chances, $25 each. Competition fee required at sign-up. Must have minimum of 20 competitors for each Bi-weekly RIDE HARD Competition or competition will be rolled over until the next scheduled Bi-weekly RIDE HARD Competition. No refunds on competition fees. If a competitor does not show up to compete, competitor may rollover competition fee until the next Bi-weekly RIDE HARD Competition ONCE if desired. Failure to show up ready to compete the second time results in fee forfeiture. All riders must achieve a minimum full 8-second ride at full speed hardest level, while holding on with one hand only and the other hand held and maintained above the rider's head at all times to qualify to win. Winner with the longest ride of 8 seconds or more receives $250 CASH and a trophy! Winner must sign an acknowledgement receipt that they did receive their cash prize. Winners automatically qualify to be a competitor in the Annual RIDE HARD Competition [with appropriate $100 paid entry fee]. Competitors not charged admission for their event only.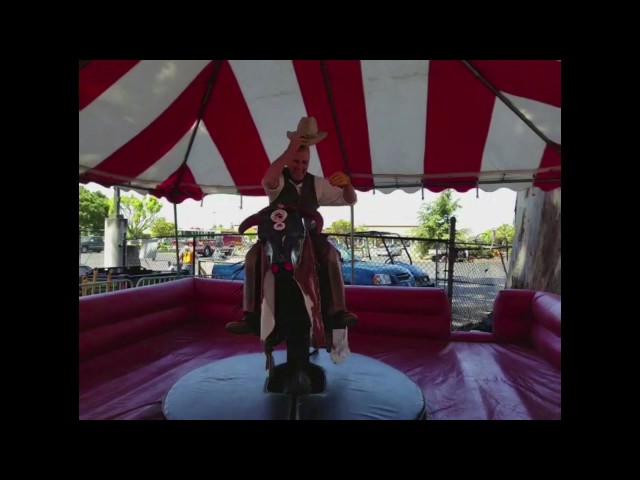 HOW TO RIDE




Annual RIDE HARD Competition

Give it your Bucking Best for the Annual RIDE HARD Competition! Bull Riders, you will be up against the best of the best RIDE HARD competitors from throughout the year. It's the toughest competition yet. Will YOU be our Annual Winner? Show everyone your bull riding skills with style and be the best that you can be. Whip, twist, rock, pitch and roll and RIDE HARD NWFL will feature YOU on our YouTube channel! THAT'S a RIDE HARD Bull Ride! SIGN UP NOW!

ANNUAL RIDE HARD COMPETITION

WIN $2,500 CASH

AND PRIZES!

NEED TO KNOW: Annual competition will be held the last Saturday in November each year. Begins 2019. Maximum of one (1) winner. All riders must achieve a minimum full 8-second ride at full speed hardest level, while holding on with one hand only and the other hand held and maintained above the rider's head at all times to qualify to win. Winner with the longest ride time receives $2,500 CASH, a trophy, and a RIDE HARD t-shirt! Competitors are the year's Bi-weekly RIDE HARD Competition winners ONLY [with $100 paid entry fee]. Annual RIDE HARD competitors must pay the $100 entry fee in the RIDE HARD Office at any time before the competition. No refunds will be given for any reason. Winner must sign an acknowledgement receipt that they did receive their cash prize. Competitors not charged admission for their event only.

0

/